February 8, 2022 — By elsa
first spring Imbolic spread*
Imbolic is a traditional Gaelic festival one of four Gaelic seasonal festivals (the others being Beltane, Lughnasadh and Samhain). It is celebrated on February 1st, midway between the Winter Solstice and the Spring Equinox, and heralds the beginning of spring. Originally a pagan holiday, it is linked to Brigid, a powerful Celtic goddess who was celebrated for her agricultural knowledge. She […]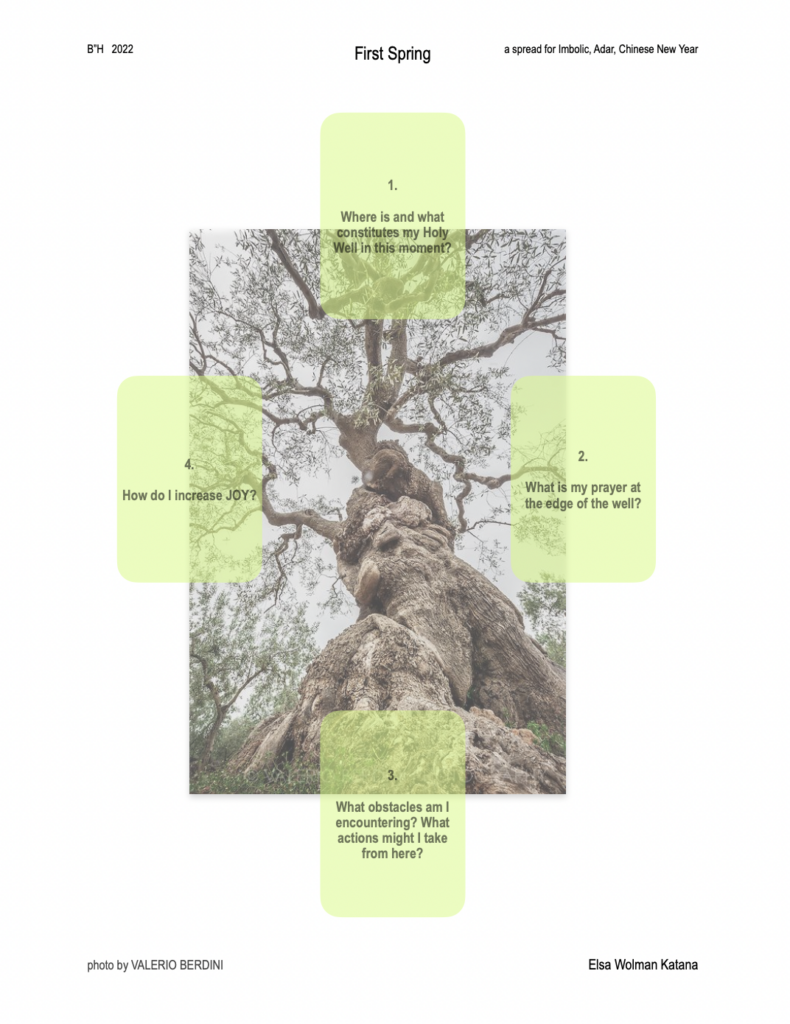 Imbolic is a traditional Gaelic festival one of four Gaelic seasonal festivals (the others being Beltane, Lughnasadh and Samhain). It is celebrated on February 1st, midway between the Winter Solstice and the Spring Equinox, and heralds the beginning of spring.
Originally a pagan holiday, it is linked to Brigid, a powerful Celtic goddess who was celebrated for her agricultural knowledge. She is associated with fertility (the onset of lambing season and the preparations for spring sowing), craft (doll-like figures known as a Brídeóg and Brigid's crosses which were created from rushes or reeds), poetry (the earliest mentions of Imbolc in Irish literature date back to the 10th century), and prophecy (seeing the whole in the seed)!
Over the centuries Brigid was adopted into Christianity as St Brigid, and today she in one of Ireland's three patron saints. On Imbolic, is customary to visit Holy wells. Water from the well was used to bless the home and family, livestock, and fields. Imbolic is sometimes seen as a 'women's holiday'. Offerings are made 'to earth and sea'. The holiday is associated with the blooming of blackthorn. Spring cleaning begins here.
information has been gathered from various sources including the www.
*a spread can also be used as a prompt for personal exploration and free writing and does not need to be used with a Tarot deck