July 24, 2018 — By elsa
Song of Ourself: Voices in Unison
Grateful to be part of this amazing anthology … you can download it for free! "Inspired by their participation in a writing course led by acclaimed author Martha Beck in 2017, 138 individuals from around the world came together to assemble an anthology of their work—searingly personal and soaringly universal—that, as a whole, offers a rich portrait […]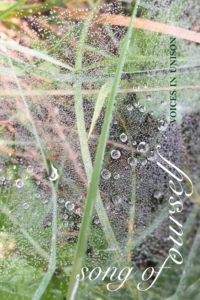 Grateful to be part of this amazing anthology … you can download it for free!
"Inspired by their participation in a writing course led by acclaimed author Martha Beck in 2017, 138 individuals from around the world came together to assemble an anthology of their work—searingly personal and soaringly universal—that, as a whole, offers a rich portrait of the lived human experience. Song of Ourself: Voices in Unison is a diary of empowerment, a guidebook to overcoming strife, an ode to the overlooked, and more than anything else, a friend to any reader in need. Arranged into stages of Awakening, Becoming, and Connecting, the voices united here discover and embrace their truest identities, embody the courage needed to help buoy us through life's hurdles, and celebrate the communality of being. As the title suggests, this collection traces the transformation from the individuality of "myself" to the shared reciprocity of "ourself," proposing an ideal of oneness and the paradigm shift necessary to attaining it. At times heart wrenching, hilarious, and lyrically sublime, Song of Ourself stands as a testament to the power of words to effect personal, interpersonal, and collective change". – DANIELLE E. FOURNIER
My piece 'Out of Exile' is the 3rd to the last.
SaveSave
SaveSave